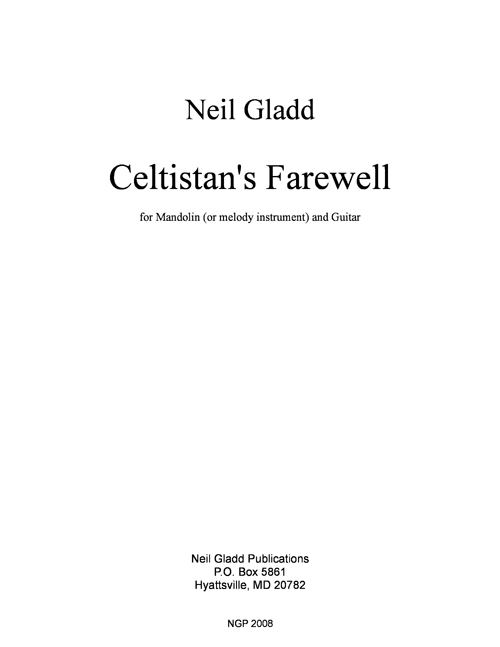 The inspiration for this piece was my work with the dance ensemble, Celtistan, a group of Middle Eastern dancers whose members were all of either Irish, Scotch, Welsh or English descent (hence the name). I had bought a few books of Middle Eastern dance tunes to play for them on the mandolin, then decided to write a piece for them. Considering their backgrounds, I decided to take Carolan's Farewell to Music by the Irish harper Turlough O'Carolan (1670-1738), and morphed it into a Middle Eastern dance tune by changing the scale and meter, in addition to generally messing with the melody. When played for dancers, it can be played with mandolin (or other melody instrument) and drums. The guitar accompaniment is to be used when it is played as concert music. I originally wrote it in G minor, the key of O'Carolan's tune, but later transposed it up a step to put the tremolo in the guitar part on an open string.
It may not SOUND at all like O'Carolan, but if you put the sheet music for both pieces side by side, you will SEE the similarities.
Catalog # NGP 2008
ISMN 979-0-800030-12-3
Price: $2.50 (pdf edition)
Please Note: For printed editions, there is an "Add to Cart" button, so that you can pay for several things at once. For digital pdf editions, there is a "Buy Now" button, instead. When things are added to the cart, it adds a shipping charge, but there is no shipping charge for pdfs, since they are delivered by email.

BACK to Neil Gladd Publications

BACK to Neil Gladd.com